New Year, Old Me
1.1.2018
---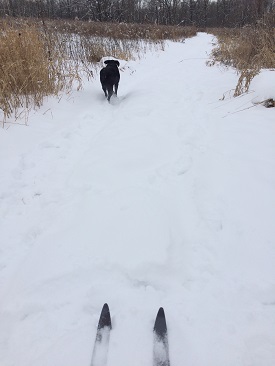 The first few weeks of January are a touchy bunch. I always feel like one of those balloon-people at car dealerships: wild flailing arms blowing in eight directions, unsure which way to face. The holidays were especially peaceful for us this year, but as January dawns I find myself tripping over my intent to ease into the new year with purpose.
It was quite a year, 2017. The world at large is a place I hardly recognize any more. In my own little biosphere, we uprooted ourselves from my sons' growing-up home and it caused unexpected ripples of upheaval. It was almost a microcosm of how our culture is changing: we saw vitriol and violence first hand, but even more kindness and support. We learned that even the loveliest beach can host a barracuda. We learned that some people will let you down, and some people will step up in unimaginable ways. We found we're all more resilient than we imagined and that four people, two pets, and a surplus of size 14 shoes can make it just fine in a two-bedroom apartment. There are STILL people living without power in Puerto Rico.
It was an accelerated year of personal growth as we decluttered our physical stuff and our emotional baggage. We found that we need very little to be content, but some things — like music — are non-negotiable. It's been surprisingly cathartic to winnow out the superfluous and keep what is important. Turns out I have saved every lipstick I have purchased since my wedding day twenty-nine years ago.
Now that we're in our permanent home and without deadlines and urgency, I get to choose priorities for the new year. I know I want more of hearing my sons laugh, my dog sigh with contentment, my husband chopping wood. Also, books, kind friends, a good night's sleep. Walking and nature are good antidotes for my flailing, too. As we dip our toes into a new year, I resolve to remember all we learned in 2017; those simple lessons are a heady, hearty bunch.